*This is a marketing message. New cardholders can earn a $150 Statement Credit for spending $1,000 within the first three billing cycles after the account is opened. Must apply by 6/30/23 to be eligible. See the FordPass® Rewards Visa® Terms and Conditions in the Summary of Credit Terms provided at time of application. Points are not redeemable for cash or check and have no monetary value. Please see the FordPass Rewards Program terms and conditions at FordPassRewards.com for information regarding expiration, redemption, forfeiture and other limitations on FordPass Rewards Points. Must be enrolled in FordPass Rewards.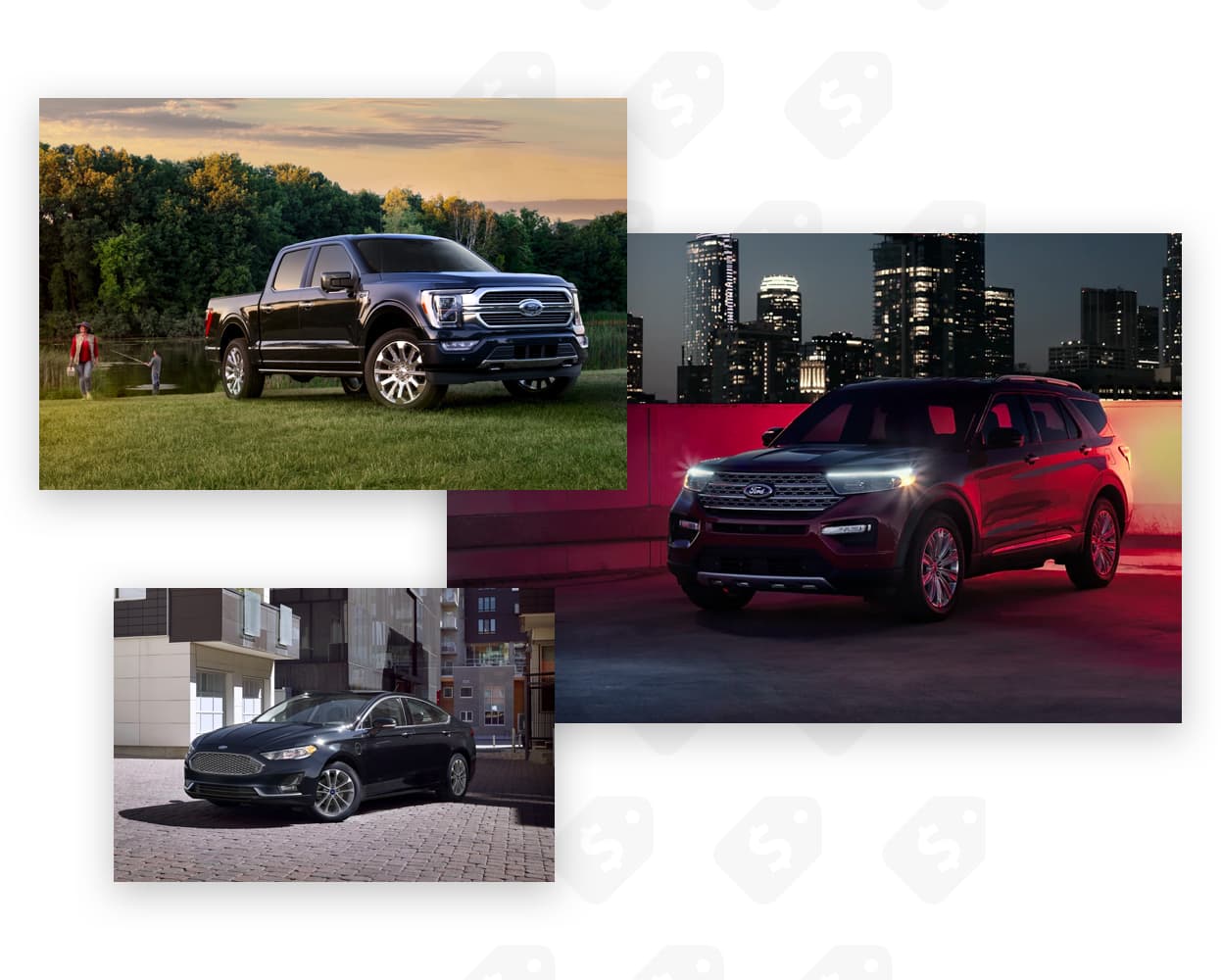 Take Advantage of This Month's Current Offers
Every month Ford releases incredible cash-back offers and special financing rates along with discounts featured in other special programs.

Welcome to Jones Ford Verde Valley
Jones Arizona's Best Since 1970
WELCOME TO JONES FORD VERDE VALLEYJONES ARIZONA'S BEST SINCE 1970
For over 50 years, Jones Auto Group has been known as one of Arizona's best new and used car dealers in Camp Verde. We at Jones Ford Verde Valley do our part to earn that title every day! With a team of experts and enthusiasts who are second to none in the area and an ongoing commitment to customer service, you owe it to yourself to begin and hopefully end your vehicle journey right here with us. When you need a next-level Ford dealer in Camp Verde that's near Cottonwood, Sedona, and Flagstaff, you can count on the incredible team that is ready and waiting for you right here at Jones Ford Verde Valley!
Arizona's Trusted Ford Dealer In Camp Verde Offers Maintenance Services
But it doesn't stop there! Jones Ford Verde Valley isn't just a used and new car dealer in Camp Verde. We pride ourselves on being the local area repair and service resource this community counts on for absolutely everything in the world of automotive. From great rates to oil changes all the way to full engine repairs, we are the ones you can rely on to get you back on the road again sooner and for less. Add to that the Jones Lifetime Power Train Protection plan, and you have a car dealer in Camp Verde that takes care of its community. Make a service appointment and visit us, your Surprise, AZ Ford dealer, at 5980 E Coury Drive on Camp Verde-Bridgeport Highway, HWY 260, only seven miles NW of the I-17.
OEM Parts Available From Your Camp Verde Ford Dealer
Perhaps you want to install new car parts yourself or rely on our experienced technicians to do the work for you. Whatever your preferences are, we use OEM parts exclusively. OEM parts are always better than after-market versions since they are made for specific makes and models. Third-party parts rarely fit well and can even damage your vehicle. When you choose us, your Camp Verde car dealer, you can rest knowing no after-market parts will get near your beloved auto. Should you decide to do the installations, use our convenient parts order form!
Your New And Used Car Dealer In Camp Verde Offers Finance Services
In addition to the wide range of car maintenance services and OEM parts we offer, your used and new car dealer in Camp Verde also provides financing assistance. Use our online payment and trade-in valuation calculators to estimate your monthly payments and put money towards your down payment, respectively. We are here to make obtaining your new vehicle as easy and stress-free as possible, which is why we offer bad credit financing. Our team recommends applying for financing online to streamline your buying process before visiting us for a test drive!
Contact Us
RECENT GREAT EXPERIENCES!
Salesman, Paul, and sales manager, Rowdy, were very helpful in the process of getting our new fleet vehicle. Great teamwork!
Jones Ford was such a nice car-buying experience. It started online with Tyler. He was very polite and responsive to my requests. He never pressured me but did make my decision very easy. I flew in from California to purchase this used car and it was worth every bit of the travelling. Frank was our driver from the airport in the courtesy vehicle. He was a lovely conversationalist and made the commute enjoyable. Dave was our financier and although everything took waaay longer than expected due to a new computer system being adopted and the internet being fussy….everyone made the wait bearable. I would definitely make the trip again to buy from this no-pressure, no hidden costs dealership. wonderful!
Long time Ford buyer. I was just passing through and needed help. Best service ever. Super nice people. Wish they were based in Denver. A+
From start to finish we had an amazing experience with Jones Ford! Parker and Troy got us exactly what we wanted and made the process so easy for us. We will absolutely use them again in the future!
Troy my salesman was very helpful keeping me in the loop with the statice of my order of a new ranger. All the personal I felt wit were friendly and professional.
I just purchased a 2021 F-150 from Jones Ford Verde Valley. Let me first start by saying this was "THE" most positive experience I have ever had purchasing a truck or car. Our sales representative Mike Owings, was nothing but polite, courteous and low key. I never felt any pressure and they didn't play any of the usual dealer price games like many of the other major brand car dealers I've dealt with in the past. Dave, the Finance/Sales Manager was equally as pleasant to deal with. Mid-way through the purchasing process we encountered a hiccup with a pricing misunderstnding , but Dave and the General Manager worked it out in just a few minutes and my wife and I were on our way with our new truck. Don't waste your time driving to the Valley in search of a new vehicle when you can buy locally and be treated respectfully, fairly and have fun with the whole purchsing process. Joe B Happy Customer
I have had my 2017 Ford Escape serviced here twice. No complaints. Staff was very friendly. Dealership was very clean. Not much more to say other than that.
This was the second truck I bought here. Both times I got a good deal on a great truck. Trade-in allowance was right on the (real) Blue Book. A pleasure working with Matt, no pressure, no BS. Service has always been good, mostly oil changes because Ford trucks don't require much else.
Bought a 2020 F-350 Lariat DRW Diesel. The truck is fabulous. Our salesman, Larry Parker, was knowledgeable and patient. Only disappointment was through Ford on their discount for veterans. I was informed I was not eligible because it had been more than two years (50 to be exact) since the military. Not sure I understand that policy.
Great sales people, truck was as listed with a great price. Delivered vehicle to me the next day even though I lived 174 miles away
In 65 years of driving and owning a lot of cars andhaving to deal with dozens of dealerships, Jones Ford is at the top of my list. The GOOD list. They have always been a personal proffesional service, they work wiith me for what "I" want and take care with my car, a '08 SHELBY GT500 Convertible w/20k miles. I get to talk directly with the Technichan Mechanic directly, Joe, he understands what I want and is dilligent in his repairs and service. I have not had such a personable experience with ANY other dealrship. Billy, the Service rep is a jewel, she goes out of her way with communications so that there is no miss-understandings, she knows her buisness and shines in 'service'. It is always refreshing to find anyplace Service Oriented to actualy be SERVICE Oriented!!! There has never been any pressure as felt in so many other dealerships, They are honestly there to get the job done without a worry, I trust them with my Special vehical and also the F150 4x4 Supercab. It was such a pleasure to find such a place here near Cottonwood,Az. L K Tuttle, PE
I was treated very well. Matt along with Mark's help had my vehicle brought up to me from Casa Grande at no cost. It was brought up that night and in the morning was washed and waxed for me to pick up by 9am. My overall experience at Jones Ford Verde Valley was excellent and I would feel good referring anyone. Thank you
Schedule an appointment, show up 15 minutes before appointment time, in and out like clockwork, along with excellent work by service personnel. Thanks to all involved.
We were very pleased with the personal service we received. The employees were knowledgeable and friendly. We will certainly recommend to our friends or any interested people we encounter.
Just moved here and was looking for a Ford dealer close to me and found you. Great service...everything was done that I asked for in a short period of time. I will be back.
Friendly Service, Larry was very helpful and answered all our questions. Service was fast and paper work was done before we arrived. Happy to do Service here again.
My 2017 GT350 Mustang was due for an oil change. As always, good service, Both service members are great--Kathy and Damien are customer oriented. Joe the tech, as always does a great job, treats your car as it is his own. NO residual oil drips on the garage floor. Troy who sold us our 2020 Explorer ST came over and chatted. Asked how wifey was and asked me to say hi to her. He even called and left a happy birthday greeting for her. Seems like everyone there is truly friendly-no fake hi-ya's. Thank you!
Damien, my service writer gave me exceptional service on my 2002 F150. He went over what they would do and promptly called with an estimate after their diagnoses. They had to order parts and the vehicle was ready in about a week. Damien provided transportation to and from my home. Truck runs great for being old and appreciated the service given at Jones Ford Verde Valley
Low pressure sales team. Bryant Colton and Larry Parker provided good follow up during and after the sale. We would buy from them again. Thank you for making the process pleasant.
I brought my 2019 Ford Ranger in because the audio system quit working. They fixed it but were not sure what had actually caused the problem. I had also been having a connection for WIFI service come up every time I started my truck-very annoying. They disable it but after two weeks it has now started coming up again.
Easy to schedule. Fast installation of new battery. Friendly and professional employees added to ease of service. Pricing was reasonable as expected. Recommend for all services.
Although it is now Jones Ford, not Coury, the service I have received here has been stellar. They work hard to keep me in the loop, and review the service report with me when done. so far so good, and I have been coming here for six years.
The service is always excellent and the people are the same. Very friendly environment. We will continue to do business with Jones Ford. Thank you, Terry Hunt
Thank you very much Parker Jones and especially Bryant Colton for turning an unpleasant encounter into the purchase of an awesome truck!! We appreciate the work you all put in including Mark the Sales Manager!
April 23, 2020. Purchased a new vehicle and the process was super easy due to the professionalism of the Jones Ford team. The service dept is excellent and has serviced my vehicles for over four years. I highly recommend this dealership.
Jones Ford Verde Valley
5980 East Coury Drive
Camp Verde, AZ 86322
Sales:
928-203-7430
Service:
928-203-7431
Parts:
928-203-7432
Directions